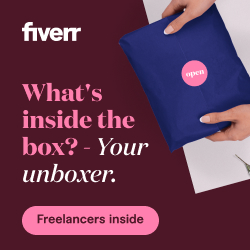 As more and more jobs are shifting online especially after the covid19 and resulting lockdowns in different parts of the world. Many people now prefer freelance jobs over the usual 9 to 5 jobs. 
If you are also one of these people and want to start a career in freelancing, Affiliate marketing is one of the easiest and reliable ways to get you started. There are several affiliate programs that pay a good commission. One of them is the Fiverr affiliate program which we will discuss in the video.
But, before we start, please subscribe to our channel and press the bell icon to get updates on upcoming videos.
What is the Fiverr affiliate program?
It's just like any other affiliate program that pays you to promote its products and services. Whenever a user purchases by using your affiliate link, you earn a specific commission. You can withdraw your earnings by PayPal or bank account.
How to Join?
The first step is to sign up your account with the Fiverr affiliate program by following two steps
First, fill in all your details

Secondly, answer two simple questions like how will you promote Fiverr services and your audience's interests. After completing these two steps, hit 'Register Now' and you are good to go.
But, Keep in mind that the Fiverr affiliate account is different from the account you use for buying or selling your services on Fiverr.

Commission plans
Fiverr offers 5 commission plans:
Fiverr CPA:

Fiver CPA offers a dynamic commission range from $15 to $50 depending on the type of service that you promote 

Fiverr Hybrid:

Fiverr Hybrid has a fixed commission rate of $15 + 10% of revenue share. You get your fixed commission when a first-time buyer purchases services via your affiliate links. This link will direct your users to Fiverr's homepage.
Fiverr Pro:

Fiverr Pro has the highest commission rate of $150 CPA because buyers can work with verified, exceptional talent, hand-vetted for top quality and services. 

Fiverr Learn: Fiverr Learn is an educational platform of Fiverr that offers practical skills to businesses and freelancers. You can earn a 30% commission for every sale of a Fiverr Learn course.
AND CO: It is an app to run a freelance business or studio. You can earn a 30% commission for the sale of every AND CO Pro plan.
Difference between CPA and Hybrid
CPA stands for cost-per-action or acquisition. It means the amount that gets paid when a product or service is sold. The difference between Fiverr CPA and Hybrid CPA is that in Fiverr Hybrid you get fixed commissions + 10% revenue share no matter what services you promote whereas in Fiverr CPA your commissions vary for the type of services that you promote like some services have high CPA whereas some services have low CPA from $15 to $50.
How to Make Money with the Fiverr affiliate program?
If you are planning to join the Fiverr affiliate program, but have confusion about how you will promote services and make decent money.
Don't worry, we have got you covered. Here are some tips you can follow to make a good commission by using your affiliate links.
Create guides around any niche and mention related services. Let's say you write a blog about setting up a small business. In each step, you can mention a relevant freelancer on Fiverr, like logo design service, branding of your product, writing for your business, etc.

You can mention your personal experience of buying services through Fiverr.

Promote your links on different Facebook groups
Here is a tip for you. You can easily make around $3000 a month. Just focus on promoting services that offer high CPA. There are many services with high CPA like Game development, animations, E-commerce, and Fiverr pro services.
Pros
Let's have a look at some of the amazing benefits of joining the Fiverr affiliate program.
All

links include a 12-month tracking cookie. 

Another great advantage is that Fiverr operates in 160 countries. It means you have a huge audience. So, if the buyer is not from the US, but from an approved country on the list, you will be paid your commission.

Fiverr offers unlimited services to buyers. Just name it, and you will find someone selling the exact service you need.

Higher commission rates for all Fiverr Pro services and some selected original Fiverr services.

Possibility to generate deep links.

You can promote services even on social media.
Cons
Like any other affiliate program, the Fiverr affiliate program also has some disadvantages as well.
The platform pays out commissions once per month, but only if you have earned more than $100.

Affiliates get a commission for first-time buyers only.

You need to be careful of what you're promoting as not all gigs on Fiverr are of great quality.
The pros of the Fiverr affiliate program outweigh the cons, so It is a good option to make a handsome amount of money.
Conclusion
Fiverr is the easiest and best place to make money online but you have to follow certain practices to make full use of it. One good thing about the program is that your earning potential is not limited to a certain range. The more you promote, the more you earn.